SECOND DOCUMENTARY, 1993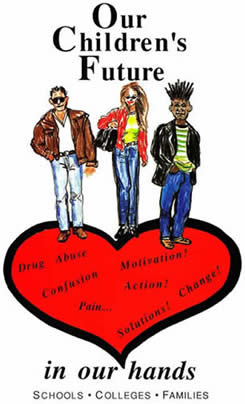 "Our Children's Future, in our hands"
The "Before it's Too Late" project was implemented between 1990 and 1995.
It supported many leading edge groups, in particular the Lighthouse Foundation, founded by Susan Barton AM. During that time their were many major events
held in Melbourne & Sydney. The documentary, "Our Children's Future in our Hands," was producedand was distributed to schools around Australia, including a Manual
for teachers. Tthe project generated awareness through national TV, with
Max Walker and Robert Kiyosaki as the Spokespersons.
The project also channelled human and material resources to youth
support groups. It created educational programs for empowering Youth
Groups including a major "Success Congress for Teens" in Sydney,
which was supported by leading sports and entertainment celebrities.
The legacy of the initiative lives on via our support of the great
work of the Lighthouse Foundation, based in Melbourne.
"See What We Can Be"
This song was composed for the launch
of the documentary in Melbourne.
Jerry Speiser, (the drummer from "Men at Work") helped me produce a
simple home demo recording in Melbourne. It was used as a guide for the
Fitzroy Community School Choir who performed the song at the launch,
coordinated by Philip O'Carroll, Drusilla Hendry and Sumitra Phoenix.